I felt it was time to post my work on Boyhood, a book I worked on for the last half of the second year of my Illustration BA. I did actually post some bits on Dribbble, but only one person I've met in the last two years knows what Dribbble is, so I essentially posted it to myself, and whichever strangers happened across it.
So here, I've added it to my work page, go read Boyhood in all it's digitally presented glory.
The reason I'm posting now, is because it wasn't a complete waste of time and amounted to some rather nice recognition from renowned publisher Pan Macmillan. I entered my work into their annual competition The Macmillan Prize (for children's books) and received news recently that it had been highly commended.

Only 28 entrants out of 246 were highly commended — or won something, I'm not sure as I didn't count the people at the private view — so I'm rather pleased to be in the top ten-ish percent. We were all invited to the private view and winners' ceremony at Foyles on 28th May. It was a good night, plenty of wine and nibbles. The mango chutney and pappadums were a favourite among my Cambridge School of Art companions, I think we may have eaten more than is acceptable where etiquette may be concerned, but we have been well-trained to take full advantage of the 'free stuff.'
Here is a picture of me making an awkward, possibly drunk, smile while holding my certificate, alongside Max Machen, who is laughing at his own jokes: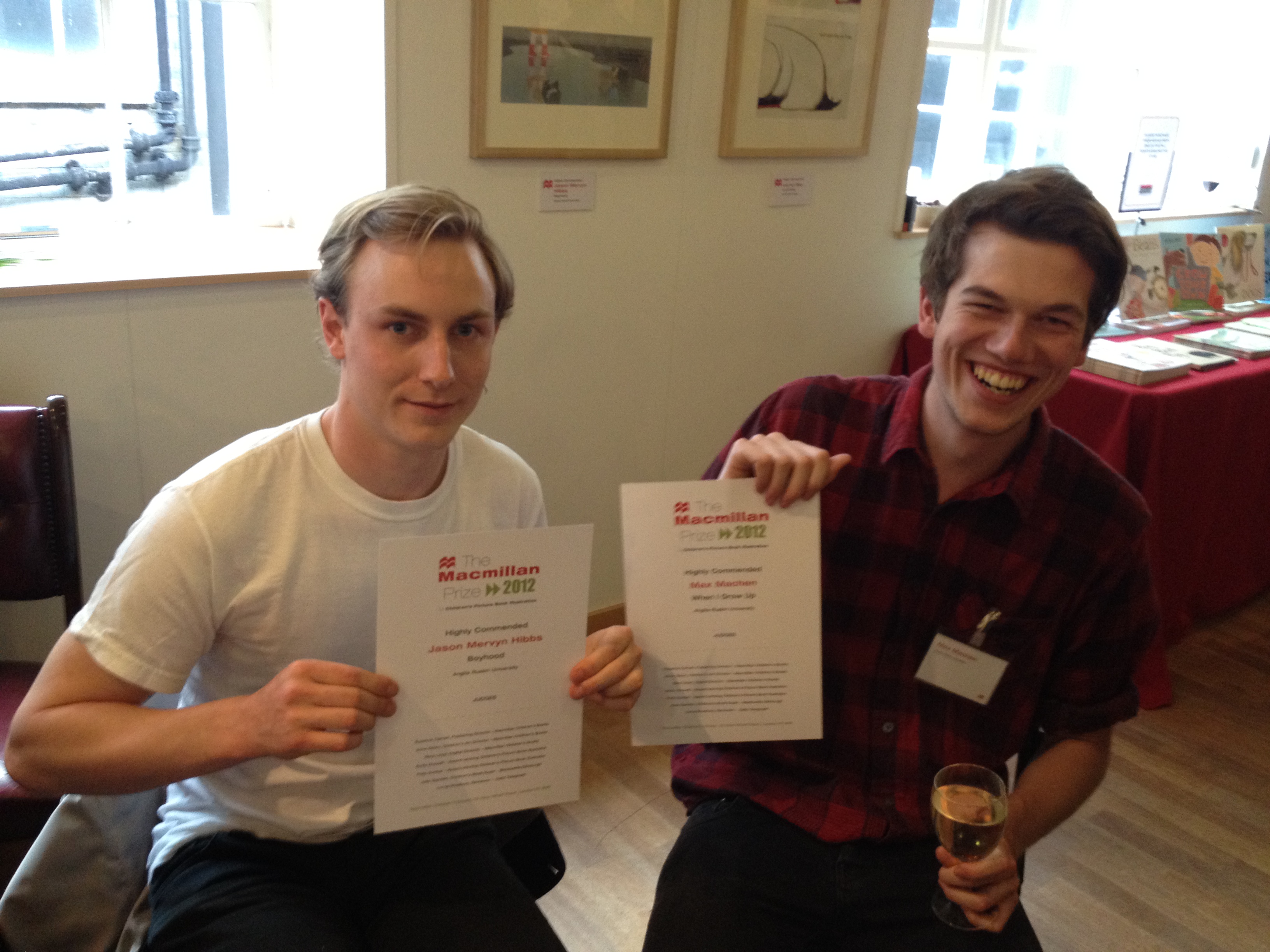 In case you like my work, I've made a little desktop background featuring some Boyhood armour. Actually, it's not little, it's 2560px x 1440px, because I made it for myself. No, I don't think that's sad, I think 27″ is a reasonable size for a monitor.
Anyway, you know how to do it: right-click, 'Save Image As…', and if you don't have an Apple Cinema Display like me, you can set it to 'Fill Screen', or 'Center'. If you have a bigger screen, I suspect you're more than capable of making your own damn wallpaper.